-VTTC PIX-
813 VTTC Project still in progress
Here are some more updated pix of my 813 VTTC, work done as of 3/5/07.
I mounted the grid leak system, replaced some wires, tightened, polished, etc.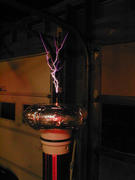 video at www.hot-streamer.com/brett/misc/dan_williams/813_vttc_sparks.mov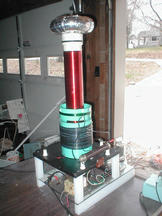 Still only about 12" sparks. I am thinking I need more primary taps for tuning and a bigger unshunted MOT. Maybe a smaller toroid.
Sample Photo 2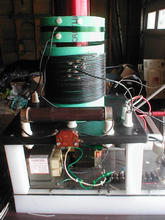 Closeup of the mounted Grid Leak. The resistor is 5.8K at 125 Watts, the cap is a .004 Mica at 5000 Volts.
Sample Photo 3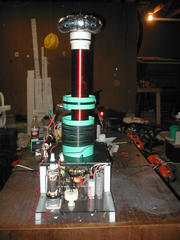 Allot of work done, allot more to go. I am planning on adding 3 Nylon bolts so I can slide the feedback coil up and down the secondary without using chunks of foam. Want to try a larger MOT with the shunts knocked out. Need to make a permanent set of wires for the grid system instead of using test leads.
Sample Photo 4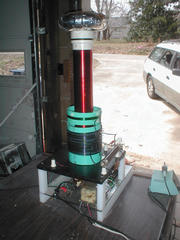 Cant wait till it's done so I can start the next one!
Sample Photo 5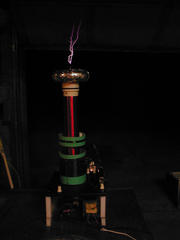 Nice crispy sparks in the dark.
Sample Photo 6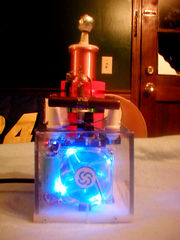 Closeup of the business side. Soon there will be a lexan cover with a heater switch, a plate voltage meter, and maybe an input amp meter. And Oh yea, a Danger High Voltage sticker.
Free
Feel free to download and use images.